Fire is one of the three Starter elements in Elemental Battlegrounds. It's color palette consists of Red, Orange and Yellow. The symbol for Fire depicts a wavy flame/fire.
Fire is a distance magic and is based on heavy damage and gradual stall with a burn. Its spells are a mixture of fast and slow. It's weakness is quick maneuvering and dodging.
Fire costs 150 Diamonds if it is not a player's starting element.
Usage
The Fire Element is an element focused on heavy hitting, and slow reliable damage, allowing it's user to reliably hold its own in a duel, while almost simultaneously having a power advantage over other basic elements, whether they're stalling, or trying to push past an opponent. As a beginner spell, it is the heaviest damage dealer out of the initial three, but lacks speed compared to the other two. Furthermore, fire offers one of the more unique sets of playstyle with its intriguing spells. Due to this, in order to be an effective fire user, the learning curve is fairly steep if one wants to utilize its potential at its peak.
Spells:
Consecutive Fire Bullets
"User fires low damage fire bullets that turn the area they touch on fire"
Great Fire Blast
"User creates a high damage fireball that results in a wall of fire on impact"
Blaze Column
"Users' mouse cursor erupts in a column of fire that deals a medium amount of damage and issues a quick stun"
Flame Body
"User transforms on fire and becomes unable to take burn damage. While on fire, your moves will be stronger and damaging other players or receiving damage from opponents will result in a speed boost"
Hell's Core
"User begins erupting multiple columns of fire leading up to an obliterating fire explosion that deals massive damage"
| Fusion Element | Element 1 | Element 2 | Overall cost of getting the fusion element (diamonds) |
| --- | --- | --- | --- |
| Lava | Fire | Earth | 150 + 300 = 450 |
| Plasma | Fire | Storm | 150 + 300 = 450 |
Trivia
Images and Videos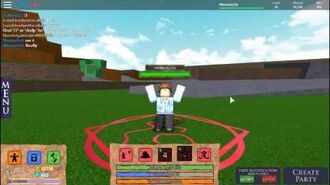 Fixed