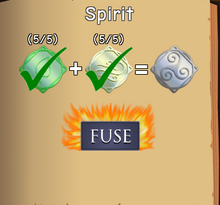 Fusion of Elements is a method of which players can combine two elements to make a completely different one. The new element would also need to unlock abilities with shards. Most fusion elements are Common Fusion Elements while others are Superior Elements.
Note: You keep the Elements that are fused to make a new one
Fusion Elements
This table shows all the fusion for elements possible.
Ad blocker interference detected!
Wikia is a free-to-use site that makes money from advertising. We have a modified experience for viewers using ad blockers

Wikia is not accessible if you've made further modifications. Remove the custom ad blocker rule(s) and the page will load as expected.