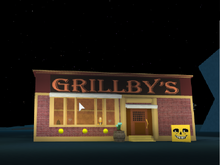 Description
Minilovania is a secret map with no safe zones based off of the popular game Undertale. When in the map, players automatically obtain the Sans element. The element is not available on other maps and cannot be used on them. The drop zone was around a restaurant named Grillby's.
Trivia
The map used to be accessed using a tree. However, its access location was changed to being behind a ledge.
This map is also the smallest on the game.
Gallery