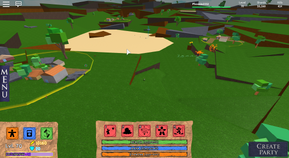 Standard is the default map where you will normally spawn if you do not change map at the
Menu
.
There are several safe zones in the hills and a sandy area in the center, with a pile of dirt in it. That is the drop zone of the map, where diamonds and shards spawn. This is also the place where most people fight, so watch out. In the sides there are mountains and hills with few trees. These hills provide a hiding area.
Ad blocker interference detected!
Wikia is a free-to-use site that makes money from advertising. We have a modified experience for viewers using ad blockers

Wikia is not accessible if you've made further modifications. Remove the custom ad blocker rule(s) and the page will load as expected.